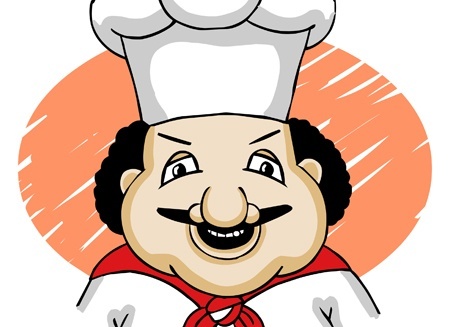 Summary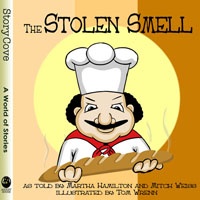 Book ISBN:
978-0-874838-38-1
The Stolen Smell is a timeless story from Peru, told by Mitch Weiss and Martha Hamilton. This folktale tells the story of a greedy baker who becomes so angered over a neighbor's happiness from smelling the fresh aromas of his bakery that he demands that his neighbor pay him a "smelling fee" for enjoying the delightful smell of baking bread. The poor neighbor is confused and does not have very much money so the baker takes him to court where the baker learns a very valuable life lesson from a wise judge.
Analysis
This whimsical story provides valuable life lessons in character values about finding ways to be resourceful, treating people fairly and honestly while also taking full responsibility for our actions. A wise and clever judge shows the greedy baker that there is more to happiness than just making money. The story also serves as a useful resource for teaching a basic lesson in economics which even young children can understand. In this case the product (bread) yields an external benefit or pleasant by-product (the aroma) for consumers and neighbors. There is no need to pay for enjoying this additional benefit.
Illustrations



Questions
If you have any questions regarding The Stolen Smell, any of the lesson plans, activities, or using the online video formats in the classroom or at home, please send us a message at This email address is being protected from spambots. You need JavaScript enabled to view it.. A representative from Story Cove will get back to you as soon as possible to answer your questions. We appreciate your feedback to continue to improve the site and make the learning experience more effective for children.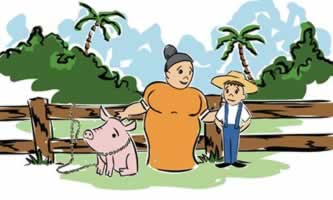 Summary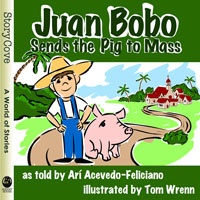 Book ISBN:
978-0-874838-83-1
Juan Bobo, which translates to "Simple John", is featured in a series of humorous folktales from Puerto Rico. The story is retold by Arí Acevedo-Feliciano. It is a classic tale about a mother and her foolish, young son who lacks common sense. One morning, Juan's mother asks her son to take care of their pig while she goes to church for mass. While she is gone, Juan hears the pig squealing and grunting, so he thinks that the pig is sad because she wanted to go to mass, too. In an attempt to be helpful, he dresses up the pig in his mother's clothes and jewelry, then he sends her off to mass. When Juan's mother returns from church, she is furious when she discovers the pig rolling in the mud with what is left of her dress. Still, Juan just doesn't understand why the pig never made it to mass.
Analysis
The popular phrase, "Putting lipstick on a pig," comes from this classic Puerto Rican folk story of Juan Bobo dressing up the pig for mass. This story offers valuable life lessons about taking responsibility for our actions, being resourceful while becoming trustworthy and dependable. Although Juan's intentions were good, his actions resulted in disaster when the pig destroyed his mother's dress and trashed her jewelry. Of course having good intentions alone isn't always enough and his actions led to a disappointing outcome – something that all of us can relate to.
Illustrations



Questions
If you have any questions about Juan Bobo Sends the Pig to Mass, the lesson plans, activities, or online animated videos, please don't hesitate to ask. We are very interested in hearing from you. Simply email us at: This email address is being protected from spambots. You need JavaScript enabled to view it. and a representative from Story Cove will answer your questions as soon as we can.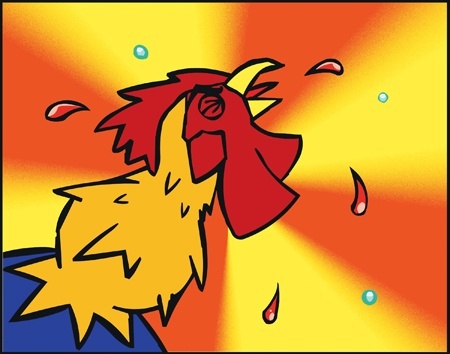 Summary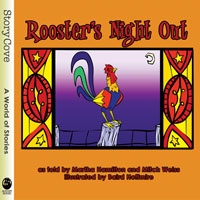 Book ISBN:
978-0-874838-26-8
Rooster's Night Out is a humorous chain story from Cuba that is retold by the award-winning creative team of Mitch Weiss and Martha Hamilton. It is a story about a vain rooster who sets out for a party after carefully grooming his feathers. On the way to the dance, he accidentally splatters juice from a tomato on his feathers. The rooster of course wants to get his feathers cleaned in time to go to the dance at Heron's party that night, but he finds that he needs a lot of help from his friends to get cleaned up. Fortunately, he finally receives the help he needs when the sun comes to his aid. As a sign of gratitude, Rooster agrees to crow every morning to wake the sun up.
Analysis
This humorous folktale from Cuba provides valuable life lessons in character values. The Rooster learns about perseverance and how to be resourceful when faced with the challenge of getting his feathers clean in time for the party. This folktale also teaches the lesson of showing gratitude to others when they offer their help. In this timeless story the sun offers help and the Rooster responds in kind by crowing to wake the sun up every morning.
Illustrations


Questions
If you have questions about the book or any of our other subscription content, please do not hesitate to contact us at: This email address is being protected from spambots. You need JavaScript enabled to view it. and a representative from Story Cove will get back to you as soon as possible. We appreciate your helpful feedback as we work to maintain and enhance the learning experiences and effectiveness of the site.