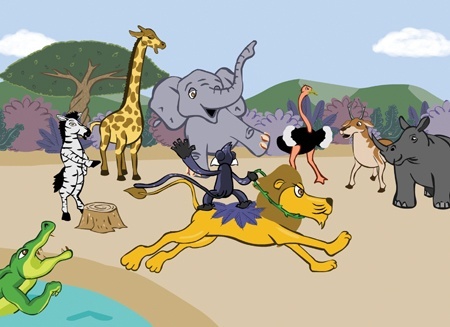 Summary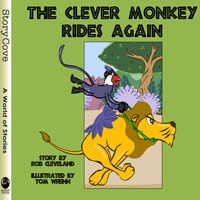 Book ISBN:
978-0-874838-28-2
Our friend the very clever monkey is up to his old tricks in this humorous African folktale. The Clever Monkey Rides Again, as told by Rob Cleveland, takes place long ago in the African jungle where a terrible bully lion roamed. The lion played all sorts of mean tricks and childish pranks on all of the animals. They were too afraid of the lion to stand up to his bullying. That is, until our friend the clever monkey hears the nuisance and starts to laugh. He uses his trickery to embarrass the lion and his humiliation leads him to run away, never to return to that part of the jungle again.
Analysis
Although this whimsical folktale comes from Africa, many variations can be found in the Br'er Rabbit tales from the American South as well as in Native American stories. Instead of the trickster monkey, other cultures substitute the trickster rabbit as the main character. Rob Cleveland uses this story to share valuable life lessons in character values about how to be resourceful in meeting a challenge, how to be courageous in the face of a threatening bully, and how to stand up and be a good citizen when others are too frightened to act.
Illustrations



Questions
If you have any questions about book, the lesson plans and activities, or the online videos for The Clever Monkey Rides Again, please do not hesitate to contact us at: This email address is being protected from spambots. You need JavaScript enabled to view it. and someone from Story Cove will answer your inquiry as soon as possible. We appreciate your input as we strive to enhance the learning experiences of the site.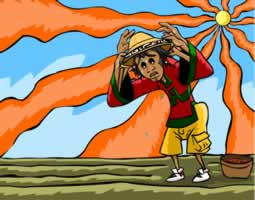 Summary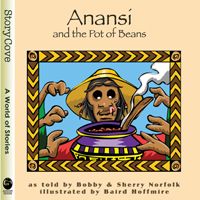 Book ISBN:
978-0-874838-11-4
Did you ever wonder why spiders have no hair? After reading Anansí and the Pot of Beans, you too will know the answer. This classic folktale from Africa, written by Bobby and Sherry Norfolk, tells the story of when Anansí goes to help his grandmother. Upon arrival he finds her steaming, hot pot of beans, which he can't resist. This is where the fun begins. Anansí and the Pot of Beans is a charming story that is entertaining while also teaching important life lessons in character values about responsibility and trust.
Analysis
The Anansi stories are always entertaining for kids of all ages because the spider trickster keeps landing in some kind of adventure. His troubles are typically due to his own greed or an impulsive decision. Anansí and the Pot of Beans is a great story for children with a vivid imagination and a good sense of humor. It is also a good example of a cause and effect story that can be helpful to use as a teaching point. Educationally, this folktale presents themes about listening, respect, responsibility, and trustworthiness. Finally, Anansí and the Pot of Beans is a book that is worth reading out-loud and discussing with children from preschool through 2nd grade.
Illustrations



Questions
If you have any questions or comments about the Anansí and the Pot of Beans lesson plans, activities, videos, or any other aspect of the story, please email us at: This email address is being protected from spambots. You need JavaScript enabled to view it.. After receiving your question or comment, someone from Story Cove will respond to your inquiry as soon as possible. We appreciate your input and recommendations so that we can improve the learning experience and effectiveness of the site.